Our business applications
Metallurgy / Iron and steel
ATV leve­­rages all its expe­­rience to serve players in the field of iron and steel and metal­­lurgy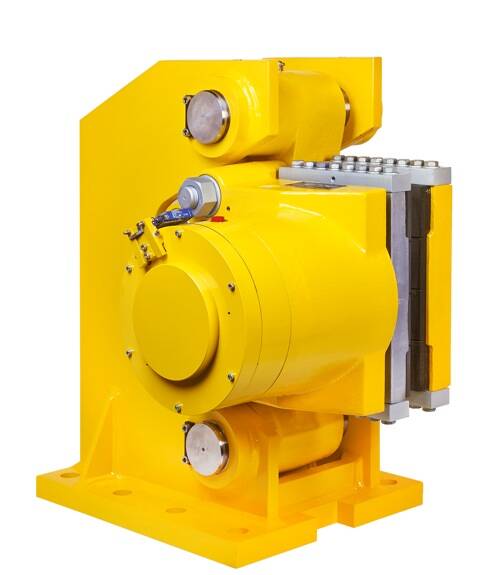 Hot and heavy loads...
Metal indus­­tries and parti­­cu­­larly the iron and steel indus­­try imple­­ment processes invol­­ving the hand­­ling of very heavy loads and ladles of liquid metal which demand the use of fail-safe brakes, on fast lift shaft and on slow shaft, most often directly on a disc secu­­red to the winch.
Extensive experience in the field...
ATV Brakes has exten­­sive expe­­rience in this field and offers a range perfectly tailo­­red to this sector. The elec­­tro­­ma­­gne­­tic brakes in the Elec­­tro­­ma­­gne­­tic Safety range allow opera­­tion on hot overhead cranes (loading, casting, slag), where it is not uncom­­mon to see flames cros­­sing the overhead crane. The steel design gives these brakes increa­­sed resis­­tance to dust, parti­­cu­­larly by adding air pots.
Atv-S400A
Pont Stalvoss Brême S300SH
Atv-S400B
Pont Kranbau Köthen à Aviles
Dedicated technological solutions!
For heavy steel­­works overhead cranes with winches subjec­­ted to intense mecha­­ni­­cal and ther­­mal stress, ATV Brakes offers a full range of floa­­ting hydrau­­lic cali­­pers. These cali­­pers move with the disc and there­­fore operate with a redu­­ced clea­­rance, which gives them an opti­­mal reac­­tion time while avoi­­ding over-sized cali­­pers and any wear of the pads. With between 9 and 400KN of restraint, these cali­­pers have won over a large number of Euro­­pean sites.
Products and services...
The working condi­­tions of ATV products in the iron and steel indus­­try make regu­­lar main­­te­­nance a requi­­re­­ment.
Our factory in Rethel handles complete overhaul opera­­tions in the work­­shop on the brakes that are retur­­ned to us.
Dismant­­led, apprai­­sed, repain­­ted and reno­­va­­ted, these brakes leave the factory for many more years of service to secure your faci­­li­­ties.